About Alexandra Paul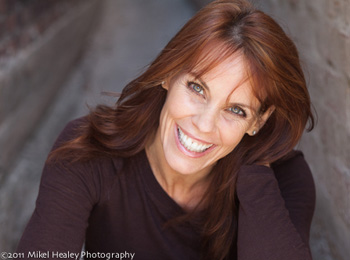 Alexandra has appeared in 100 feature films and television programs – mostly as the first or second female lead. She is internationally recognized for her 5-year starring role as Lt. Stephanie Holden in the tv series BAYWATCH. Alexandra recently launched her wellness coaching business. As a health coach, Alexandra personally coaches clients on the phone all over the world, and speaks to groups on how to change their habits for a healthier lifestyle and a happier life.
Career Overview
Alexandra Paul began her acting career at age 18 starring in the highly rated telefilm PAPER DOLLS. She then starred in the Warner Bros. motion picture AMERICAN FLYERS opposite Kevin Costner, DRAGNET opposite Tom Hanks & Dan Ackroyd, EIGHT MILLIONS WAYS TO DIE opposite Jeff Bridges & Andy Garcia, Stephen King's CHRISTINE, SPYHARD with Leslie Nielsen and two films opposite Pierce Brosnan.
In 2017, Alexandra filmed the independent movies SAY YES and LAS VEGAS IN THE AFTERMATH and Lifetime Movie Network's BABYNAPPED. In 2016, Alexandra did a cameo in SHARKNADO 4, and won an Indie Series award for Best Supporting Actress in a Comedy for her work in the web series MENTOR. She has also received a nomination in the same category at LA Webfest. In 2015, the Sy Fy movie in which she starred, FIRE QUAKE, played all over the world and the independent film DIRTY premiered. Earlier, Alexandra starred in the independent film CHRISTMAS SPIRIT and the made for tv movie NO ONE TO BLAME. In 2011, she was a spokesperson for the Volt, a plug in car by Chevrolet. Alexandra Paul starred in THE BOY SHE MET ONLINE and co-starred in A BEER TALE in 2009. In 2008, the independent film TRU LOVED, in which Alexandra played a gay mother, swept film festivals. That year she also starred in the movies A DATE WITH MURDER, FAMILY OF FOUR, A SISTER'S SECRET and CHRISTMAS CRASH. She guest starred in the Emmy nominated series, MAD MEN, and co-starred in the independent film, JAVELINA. Alexandra is also featured in the highly acclaimed, award winning documentary WHO KILLED THE ELECTRIC CAR, now out on DVD and a top ten documentary on Netflix.Her other roles include ROUGH AIR opposite Eric Roberts, ABOVE AND BEYOND opposite Adam Baldwin & Costas Mandylor, EXPOSURE opposite Ron Silver, REDEMPTION OF THE GHOST opposite Diane Ladd & John Savage, the Disney Channel telefilm BRAINIACS, BREAKING UP REALLY SUCKS, a short lesbian-themed film for POWER UP Films, and a recurring role in the final season of MELROSE PLACE.
For 4 years, Alexandra hosted the extreme sports series WILD WATERS on the Outdoor Life Network, in addition to hosting the WE network series WINNING WOMEN for two seasons. She also hosted 150 episodes of the environmental cable access talk show EARTH TALK TODAY.
Personal Life
Alexandra was honored by the ACLU of Southern California as their '2005 Activist of the Year' for her long history of fighting for the environment, voting rights and peace issues. In 1997 the United Nations commended Alexandra for her environmental activism. In 1999, she won the International Green Cross award. She walked across America for over five weeks on The Great Peace March for Global Nuclear Disarmament, and has been arrested over a dozen times for protesting at the Nevada Nuclear Test Site. She was also arrested during a peaceful 1990 sit-in for AIDS patients to access fast tracked pharmaceutical drugs.
A longtime animal rights activist, Alexandra was Last Chance for Animals' 2014 Activist of the Year. In 2017, she was arrested during a sit in at an Oakland, CA slaughterhouse and took a sick calf from a dairy farm in an open rescue.
Alexandra has been driving electric cars since 1990. She is a vegan and will not use any products tested on animals. She has traveled to Nicaragua with a medical aid group, to Lousiana to help animals after Hurricane Katrina, to South Africa to register voters and to Sierra Leone to promote family planning. She is also a certified EMT (Emergency Medical Technician), registered voters once a week for 18 years and speaks fluent French.
A dedicated and accomplished athlete as well, in 1997, Alexandra spent nine months training for the WORLD IRONMAN TRIATHLON CHAMPIONSHIPS in Hawaii (a grueling 2.44 mile swim, 112 mile bike ride, and 26.2 mile marathon), which she completed in 13:18:52. In 2012, Alexandra swam around Key West, a 12.5 mile race and in 2014 swam the 14 mile Reto Acapulco off the coast of Mexico.
In addition, Alexandra wrote, produced and hosted JAMPACKED, an educational film broadcast on PBS about the human overpopulation crisis, which has won several environmental awards. She followed that up with THE COST OF COOL — FINDING HAPPINESS IN A MATERIALISTIC WORLD, which won a CineEagle award. In 1986, she (along with producer / manager Daniel Sladek) founded YOUNG ARTISTS UNITED, a successful non-profit organization dedicated to helping teenagers in need. Alexandra has also personally spoken, classroom-by-classroom, to over six thousand Los Angeles teenagers on the issue of human overpopulation.
In 2000, Alexandra and her twin sister Caroline were the recipients of the Christopher Street West Rainbow Award for their ongoing support of gay and lesbian rights.
Other info:
Alexandra has been in love with triathlon coach Ian Murray since 1995. They live in Los Angeles with their cats.