Stars in Danger: The High Dive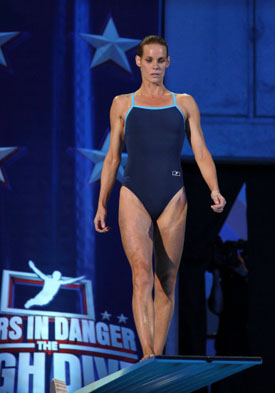 When Rob Bagshaw, a fantastic showrunner who had worked with me on The B Team called and asked if I would be an alternate diver on Fox's upcoming 2 hour special jumped at the chance.  As well as I can jump, that is. Jumps, flips, turns, handstands – these are all skills needed for diving, and I have none of them. I couldn't make the cheerleading team in 7 th grade because my cartwheel flopped over every time. But I was jazzed to get the opportunity to train with an expert dive coach for 10 days, because when does an old dog get to learn new tricks? Stars in Danger: The HIgh Dive.
By the time Rob called me, the 8 selected celebs had already been practicing diving for 4 days, and already 3 of the 4 men had dropped out. I was proud to hear that BH Housewives Kim and Kyle Richards, Jenny "JWoww" Farley from Jersey Shore and the pro surfer Bethany Hamilton had not wimped out. So it seemed like I might have a pretty good chance of becoming a competing diver, if Fox was OK with a woman taking Joey, Jose's or Romeo's place.
Turns out they weren't, but Fox brought on an amazing trio of beautiful men: Antonio Sabato Jr., who impressed me with his athleticism, his strong work ethic and his kindness to all; Twitch , who joined us with just 5 days of practice before the show and was doing flips in no time; and my wonderful friend and Baywatch/12 Bucks/ Murder.com castmate David Chokachi .
So I was still an alternate, but I was having a ton of fun: getting way out of my comfort zone (did I mention I am afraid of heights, and this show is called "The HIGH Dive") and waking up each morning so sore and bruised from learning to dive from my awesome coach, Karl Warden ("Warden, like the prison guard", he says, lest you call him Karl Malden or Walden… but he is more like a ray of sunshine with an amazing set of abs than anything as drab as a prison).
You might think that because I am a water baby, that I know how to dive. After I hit the water I am fine (although I needed to learn to go deeper when I landed), but it is the part on the diving board and in the air that I know little about! On Baywatch, the technique for diving off a moving boat to save a victim is forward and shallow, while the high dive needs to go UP, then straight down. The head position for a rescue dive and a high dive is different, and the hands for landing in the water after a high dive have to be entwined to provide the best protection for the head, as opposed to fingers straight for a rescue dive.
The competition airs on Fox tv, on January 9.  Stay tuned here for more photos and more blogging as I give more details on the training and the competition itself…